THE INSIDE 'GOSS' WITH MARTIN FREINADEMETZ
Wels, Austria – July 10, 2018 — At round four of the World Enduro Super Series competitors face Romania's infamous Red Bull Romaniacs. A truly unique event, the Hard Enduro Rallye features a multi-day format and will feature some of the most breathtaking Enduro riding seen in this year's championship. From the heart of Sibiu out into the wilderness of the surrounding Carpathian Mountains, a memorable week of world class Enduro riding is promised for the 500 competitors from 53 nations competing. For its 15th edition, the race also features a fresh twist – two overnight bivouacs for competitors. With preparations well underway, Red Bull Romaniacs mastermind Martin Freinademetz explains what riders can expect to find as the race to become this year's ULTIMATE ENDURO CHAMPION continues…

Martin, with the 15th edition of the Red Bull Romaniacs fast approaching how are preparations going for round four of WESS?

Martin Freinademetz: "Everything is coming together nicely for the 15th edition of the Red Bull Romaniacs. I think we have a lot of nice trails we can use this year and we will also visit some areas we haven't been to since some of the earliest editions of the race. For our organising team it's very much a 12-month process preparing for the race and no matter how ready we feel it's always very busy in the build-up to the race. But things are looking good – everything is falling into place and I'm confident people will really enjoy what's on offer in Romania."

With 53 nationalities represented the race is seemingly more popular than ever this year!

"After 15 years the popularity of Red Bull Romaniacs is not fading. This year the entries were completely sold out after one day of opening. We have about 500 riders from 53 nations competing, which makes it the largest Enduro race on the calendar in terms of different nationalities. Again, the United Kingdom is the largest with 86 competitors, but Australia, Germany, Austria and now Russia are strongly represented. There are riders from all continents of the world racing. I believe the reason for this is that the race offers something for everybody regardless of ability. It's five days on your bike with a lot of beautiful memories to take away from it."

Part of WESS for 2018, what do you feel Red Bull Romaniacs will add to the championship?

"We're very proud to be part of the WESS championship for 2018. I feel the nature of Red Bull Romaniacs fits well with the mixed-discipline aspect of the series. We are a Hard Enduro race but the kind of riding we have is not solely Hard Enduro, it covers all types of terrain. Some sections are extreme, but a lot of it is very fast and flowing. Also factoring in the Rallye aspect adds another dimension to our round. It's very much man and machine out in the wilderness. You have to survive with just the tools you carry and for me that is Enduro."
Along with organising round four of WESS you also competed in rounds one and three – Extreme XL Lagares and Trèfle Lozérien AMV – did you enjoy it?
"I am a race organiser by trade but I'm an Enduro rider at heart and so I wanted to experience other events I hadn't ridden before. I really enjoyed both races, especially the Trèfle Lozérien AMV Classic Enduro, which was very new for me. It's important to push myself like that, while maybe also learning new ways and ideas that can be applied to my own race. I hope to race some more WESS rounds before the year is over."
How do you prepare the course for four unique days of Enduro riding at Red Bull Romaniacs?
 "As the event has grown over the years so too has the staff and man power required to put on an Enduro race of this scale. Each of the four off road days are at least 160 kilometres long, but we actually mark well over 200 kilometres so riders of all categories have an almost unique route for each day. In the past the Bronze route was the main track, with Gold and Silver loops added on. Now Gold riders will stay to their own course for the majority of the day and this eases the passage of traffic on the terrain. To do this we've increased the number of track managers. What was once two track managers has increased to four or sometimes six people. In total the race requires about 20 track managers, plus a foot crew of 10-15 people who help clear tracks or de-mark post event."
We'll see the return of the overnight bivouac to this year's race, why is that?
"We've reintroduced the bivouac for 2018 and will spend two nights away from Sibiu. However, unlike previous editions, both nights will be in the same location, which eases the logistics for those following the race. The reason for this is to discover new and fresh trails. There is some real wilderness riding to be found here — untouched with no braking bumps or ruts. Even if you are a seasoned Romaniacs rider these days will be new for you."
Finally, Sibiu's City Prologue, which opens the event, is synonymous with Red Bull Romaniacs. What wacky obstacles are being planned for this year?
"The City Prologue is an iconic part of Red Bull Romaniacs. In terms of the overall results it's not so important, but it is something that's very special to us. Although a lot of people are now coming out into the mountains to watch the real enduro action, it's good to bring the sport to the people in the city who can't. My good friend Andy Fazekas is the mastermind behind it and every year he surprises me with his creations. With this being the 15th edition of the race he's got some wacky ideas in store, so we'll have to wait until prologue day to see what he's got planned this time around."
Round four of the World Enduro Super Series takes place at Red Bull Romaniacs in Sibiu, Romania on July 24-28.
Red Bull Romaniacs Fast Facts
189. Bronze class finishers for 2017
86. United Kingdom is the largest nation represented for 2018
32. Graham Jarvis' 2017 winning time in hours
27. Gold class competitors entered for the 15th edition
20. Track managers preparing the four off road days
12. Wacky obstacles planned for City Prologue in Sibiu
6. Wins held by Graham Jarvis, the event's most successful rider
2. Overnight bivouacs for 2018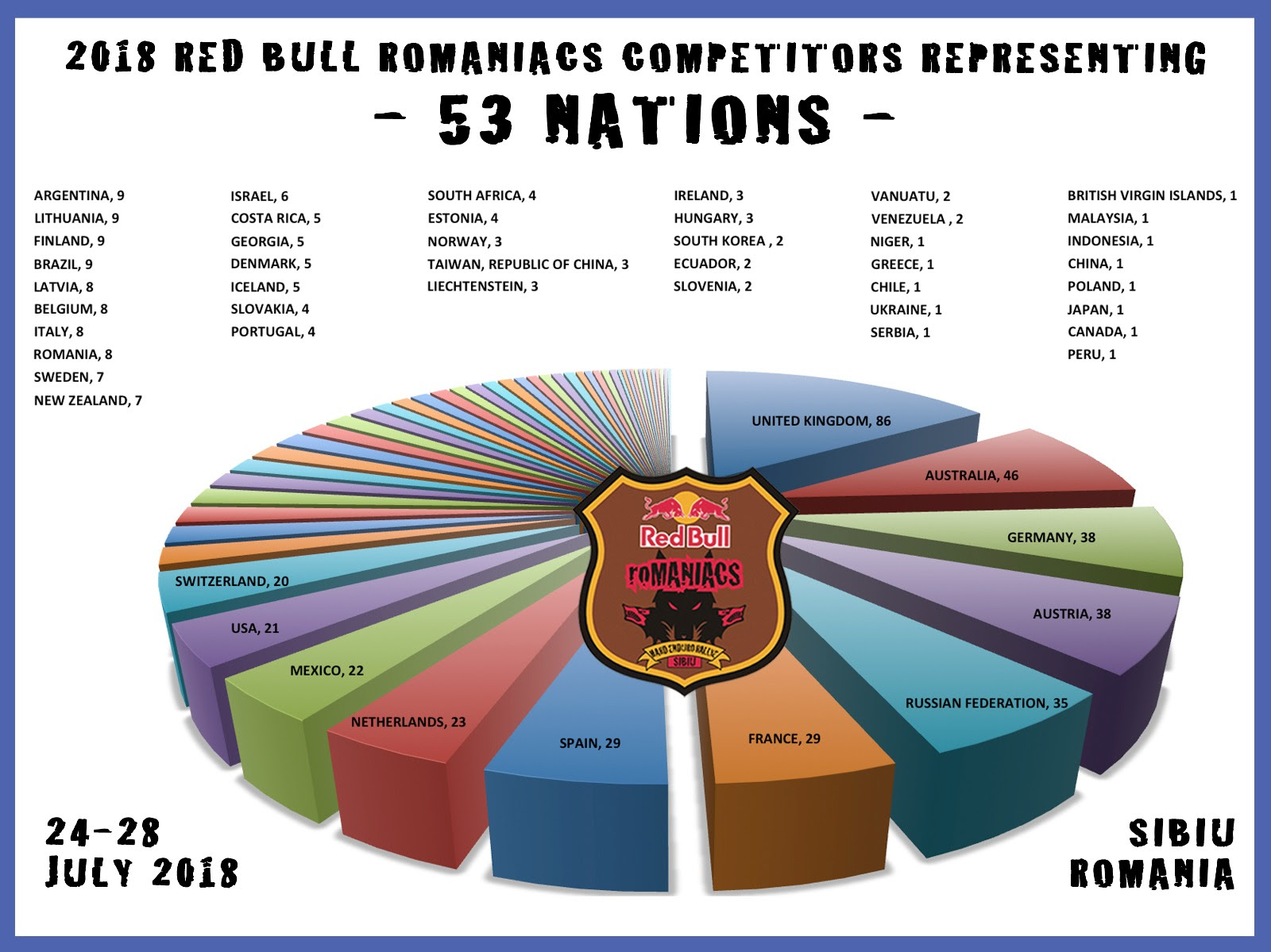 Red Bull Romaniacs 2017 Podium 
1. Graham Jarvis (Husqvarna) 2. Mario Roman (Sherco) 3. Paul Bolton (KTM)
Red Bull Romaniacs Past Winners
2017: Graham Jarvis (Husqvarna)
2016: Graham Jarvis (Husqvarna)
2015: Jonny Walker (KTM)
2014: Jonny Walker (KTM)
2013: Graham Jarvis (Husaberg)
2012: Graham Jarvis (Husaberg)
2011: Graham Jarvis (Husaberg)
2010: Chris Birch (KTM)
2009: Andreas Lettenbichler (BMW)
2008: Graham Jarvis (Sherco)
2007: Cyril Despres (KTM)
2006: Michel Gau (KTM)
2005: Cyril Despres (KTM)
2004: Cyril Despres (KTM) 
Red Bull Romaniacs Event Information 
Website: www.redbullromaniacs.com
Facebook: Red Bull Romaniacs
Instagram: @redbullromaniacs
Twitter: @RedBullRomaniac
Photo credit: Extreme XL Lagares, Future7Media, Hila Tiberiu/Red Bull Content Pool, Mihai Stetcu/Red Bull Content Pool
Website: iRideWESS.com
Red Bull TV: redbull.tv/WESS
Instagram: instagram.com/iRideWESS
Facebook: facebook.com/iRideWESS
Twitter: twitter.com/iRideWESS
WORLD ENDURO SUPER SERIES – 2018 SCHEDULE
Rnd 1. Extreme XL Lagares (Portugal) May 11-13
Rnd 2. Erzbergrodeo (Austria) May 31-June 3
Rnd 3. Trèfle Lozérien AMV (France) June 8-10
Rnd 4. Red Bull Romaniacs (Romania) July 24-28
Rnd 5. Red Bull 111 Megawatt (Poland) September 8-9
Rnd 6. Hawkstone Park Cross-Country (England) September 22-23
Rnd 7. Gotland Grand National (Sweden) October 26-27
Rnd 8. Red Bull Knock Out (The Netherlands) November 10
https://www.drd.co.nz/wp-content/uploads/2018/07/WESS.jpg
675
1024
Trevor
https://www.drd.co.nz/wp-content/uploads/2016/11/drd-logo-yellow-grey.png
Trevor
2018-07-11 13:00:45
2018-07-11 13:00:45
WESS Interview: Martin Freinademetz - Red Bull Romaniacs 2018